Register
2012 Boys Soccer
Team Fees

Regular

$0.00 per team + 4.0% Processing Fee
Free Agent Fees

Free
Join us at the family friendly and beautiful beaches of the Galveston our 5th annual 5v5 Beach Blitz Galveston tournament. We are positive that you'll enjoy a day on the pristine sand.

The youth tournament will take place on Saturday June 27, 2020, starting at 8am. This has been moved back to the end of June due to Coronavirus concerns. We also have July 25 for our second tournament, and August 1 as another back-up date. We have a plan for a socially distant form of soccer at the Beach if needed. We will discuss this as we get closer.

Here's how we plan to adjust our tournament for the new normal we are all faced with,

- We have secured additional Beach Space so the fields will be 20-30 feet separated from each other. This reduces density and crowding considerably.
- All the tournament fields will be completely spaced out to separated and avoid crowds. Here is a sample revised spaced out map here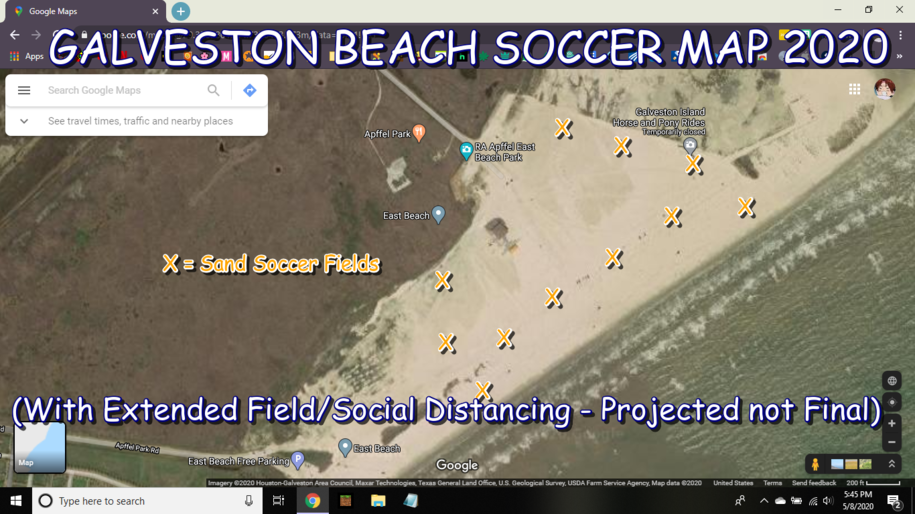 MORE PROTOCOLS
- Alternatives for bathrooms and food so the main pavilion can be avoided
- Safety protocol helpers to make sure social distancing is in place.
- Social distancing on the line with parents spaced out, and different teams on different sidelines
- Coaches behind the goals.
- The only interaction between people will be between the kids on the field
- No spitting allowed, no sharing of water containers. Kick-ins and not throw ins.
- Every ball cleaned after the games
These are just our initial thoughts. Please feel free to send your suggestions.

The tournament only option is $449 a team. Teams traveling outside of the area are eligible for cheap hotel and tournament packages (more info below), but feel free to do the tournament only option and book your own hotel as well. Following our success with last year's Beach Soccer tournament in Galveston, we are back again in 2020 with even more youth divisions!
Soccer Tournament Details
We expect a large turn out in Galveston this summer following the past success of this tournament, with teams from across Texas joining us. The tournament will be taking place on the very clean, very friendly and very family oriented Galveston Beach.

On the soccer side you get:

* U-7 through U-18 divisions
* 3 divisions each age, Recreational, Intermediate and Competitive
* 5v5 soccer against classy opposition (4 + 1 goalie, maximum 10 players)
* We give you four games guaranteed (plus a possible fifth for the final)
* Game is played on a field 30 yards wide by 40 yards long
* 30 minutes per game (2 halves of 15 minutes each)
* Soccer travel prizes galore
* Trophies for the winners and medals for the runners-up



Registration fee is a reasonable $449 for U8-U18 teams. Divisions are set by age using the parameters set by the Spring 2020, there will be a Competitive, Intermediate and Recreational divisions in each each category:
2012

2011

2010

2009

2008

2007

2006

2005

2004

2003

2002
No Shoes are to be allowed - Players must play in their feet - sandsocks, tape and ankle braces are allowed but there can be no rough parts or reinforcements in the brace. Sports knee braces that contain metal support are permitted.
If you have any questions, please contact us at:
E-Mail: travel@soccerresort.com
Phone: 718.433.2452